About the Restoration
Collaboration
Preservation of the schoolhouse has been a collaborative effort of the Johnston County Heritage Center, a county agency, and the Historic Smithfield Foundation, Inc., a 501c3 corporation. The HSF, organized in 2017, has as its mission to preserve Smithfield's historic buildings and sites and to collaborate with other organizations in using historic properties and historical and artistic objects to tell the stories of Smithfield's people. Approximately $350,000 has been raised as of June 2022 to restore the Freedmen's Schoolhouse, including a special legislative appropriation of $250,000 from the NC Department of Cultural and Natural Resources and a $25,000 grant from the Johnston County Visitors Bureau. A gift of $1 million in memory of Smithfield native Nan Ogburn Cullman has paved the way for the HSF to undertake additional historic preservation projects.
Find the HSF on Facebook at https://www.facebook.com/JoCoCountySeat
Restoration
Restoration Specialist Jason Allen and Cadet Construction Company, both of Raleigh, are doing the work of restoring the schoolhouse to its 1860s appearance and adding a small restroom and kitchen wing to the rear of the building. Work is expected to be completed by spring of 2023. Plans are to make the site available for tours, educational programs, private meetings, and public gatherings.
Interpretation
A North Carolina Humanities grant enabled the Johnston County Heritage Center to hire two student interns, Tiana Galloway and Georgia Earley, and consult with Dr. Crystal Sanders, an African-American history scholar, to develop an interpretation plan for the schoolhouse. Details are forthcoming.
Stages in the Restoration Process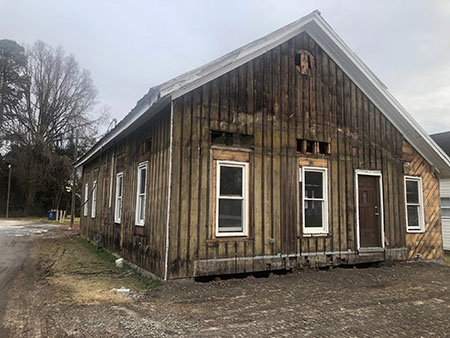 Removal of exterior siding revealed original board-and-batten siding.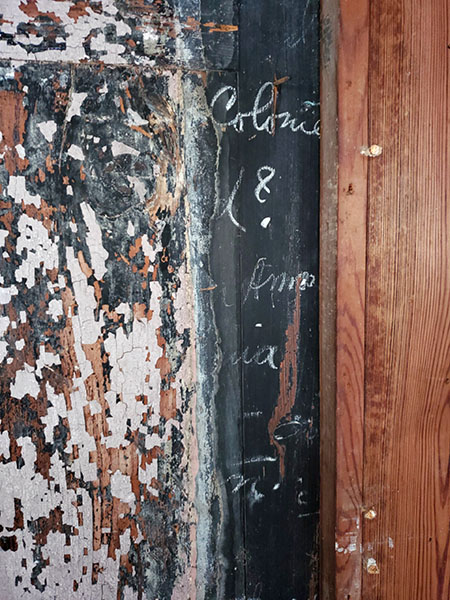 Selective demolition of the interior revealed one of two pocket doors used to separate the building into two classrooms still remained. The middle section of the pocket door was painted black and used as a blackboard, with pre-1912 chalk writing still intact.
Page last updated: March 24, 2023