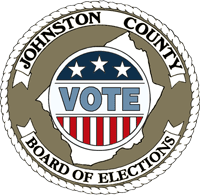 WELCOME!
You have reached the election results for the November 7, 2023 Municipal Election in Johnston County, North Carolina. These unofficial precinct results are published on the web at the same time they are called in to the office by the precincts. Precincts start reporting at 7:30 p.m. on November 7, 2023. You can view the list of precincts that have reported and when they reported.
You can:
VIEW ALL RESULTS ON A SINGLE PAGE
or
SCROLL DOWN AND CLICK ON A TOWN NAME OR RACE NAME BELOW TO VIEW PRECINCT RESULTS
or
DOWNLOAD ALL RESULTS BY PRECINCT AS A SINGLE EXCEL FILE**
** Includes precincts that have reported only, see status.

STATUS
As of November 28, 2023 at 8:03:20 AM, 23 out of 23 precincts have reported.
Last precinct that reported: PR25 - West Selma
View reporting status of all precincts
(Scroll down to view all races.)


Municipal Election Results
Eric Bowles, Sr.
Jerry M. Medlin (I)
Casandra P. Stack (I)
Curtis Dean McLamb (I)
Max Raynor (I)

H.L. (Tooie) Hales (I)

Keith Davis (I)

LaWanda M. Neal (I)

Garrett Warren Stancil
Jason Tedder
Wade Troutman
Beverly Hicks Knight
Thomas L. Garner
Jay Jeffrey (Jeff) Holt
(I)
Town of Pine Level Town Commissioners
Bruce Avery
Greg Baker
(I)
Rodney Cabe
Jimmy F. Garner
(I)
Phil Pittman
(I)
Bill Radford
(I)
Patrick W. Riley