Soils Demonstrations Using the Mobile Soils Classroom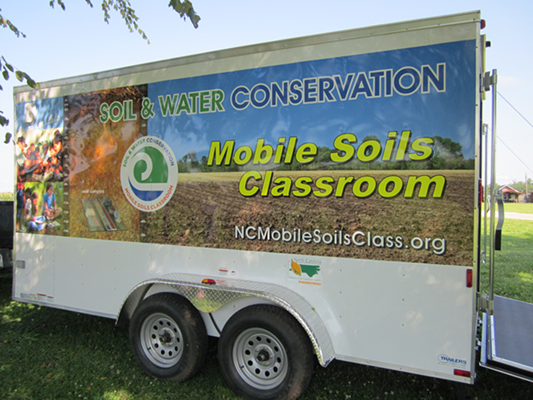 Mobile Soils Classroom Flyer - PDF
---
INTRODUCTION TO SOILS – Apple Activity :
STATION 1 –
Till vs No-Till Activity – Infiltration and runoff
(Discuss tillage factors and influence on soil erosion – discuss effects of soil erosion on water resources – nps pollution, sedimentation, eutrophication, loss of topsoil
Water Holding Capacity
(Discuss how soil macropores and micropores hold water for plant intake)
Soil Organic Matter
(Aggregate stability – how soil organic matter helps soil structure, water holding capacity and nutrient availability for plants)
STATION 2 -
Soil Texture – what is soil texture?
Discuss the three soil textures – sand, silt clay
Allow students to feel soil and use soil textural triangle
How does soil texture affect soil properties
Soil Color - how soil color affects soil characteristics
Munsell Soil Color Book, use M&M's example, discuss drainage and color
Soil Has a Charge – How does electrical conductivity of the soil affect a plant's nutrient intake?
(This may be done first to allow clay particles to clump on node)
STATION 3 -
What is SOIL?
5 soil forming factors
Chemical and Physical Weathering
SOIL horizons - monoliths
Soil is an Ecosystem - Living Soil Activity
BMP's - Discuss Best Management Practices
No-till, Cover crops, stripcropping, contour farming, grassed waterways, pasture mgmt.