June 1st is right around the corner, and with it comes the beginning of the 2023 Hurricane Season. We invite you to look through some of the information below as you begin to plan and prepare for whatever storms we may see this year.
We are no stranger to hurricanes here in North Carolina. Hugo, Fran, Floyd, Matthew, Florence; just some of the storms that have had an impact on our community in some way or another. We never know when the next storm will strike, so go ahead and begin preparing for it NOW.
Below are a series of videos and graphics we have put together to help you think about how you can prepare for whatever storms may come this year. Click each of the videos to watch them, and when you are ready for the next one, continue scrolling down to the next video.
Introduction to Hurricane Preparedness Week
In the following videos, we will discuss things that will help you prepare for whatever storms we might face:
The Risks Hurricanes Bring
How to Make a Go Bag
Knowing Where to Go if You Need to Evacuate
Checking Up on Your Insurance
How to Put Together Your Plan
Connecting with Others
Preparing Your Home
Know Your Risks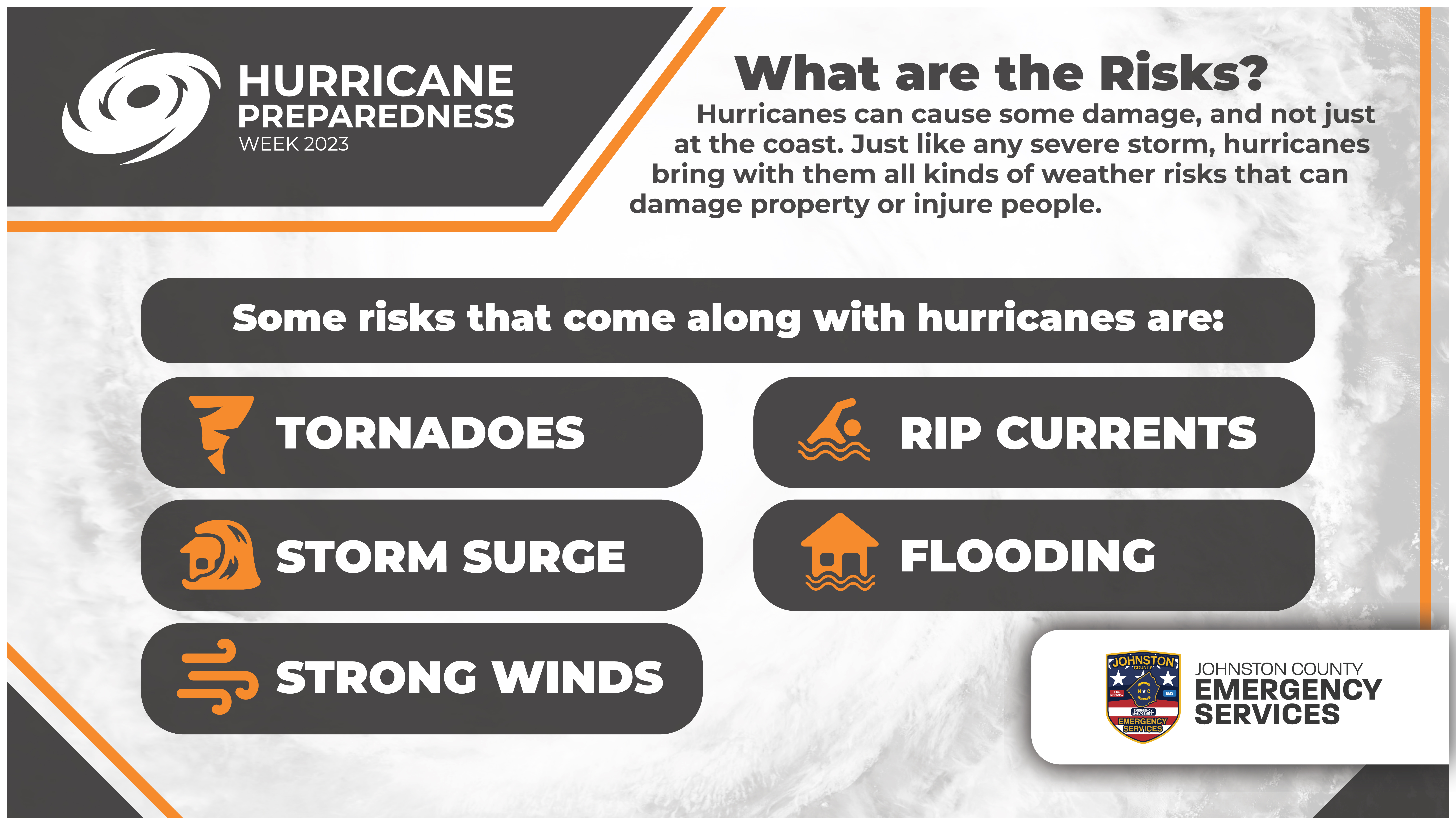 Hurricanes can cause some damage, and not just at the coast. Just like any severe storm, hurricanes bring with them all kinds of weather risks that can damage property or injure people.
Some risks that come along with hurricanes are:
Strong Winds
Tornadoes
Flash Flooding & Rainfall
Rip Currents
Storm Surge
Putting Together a Go Bag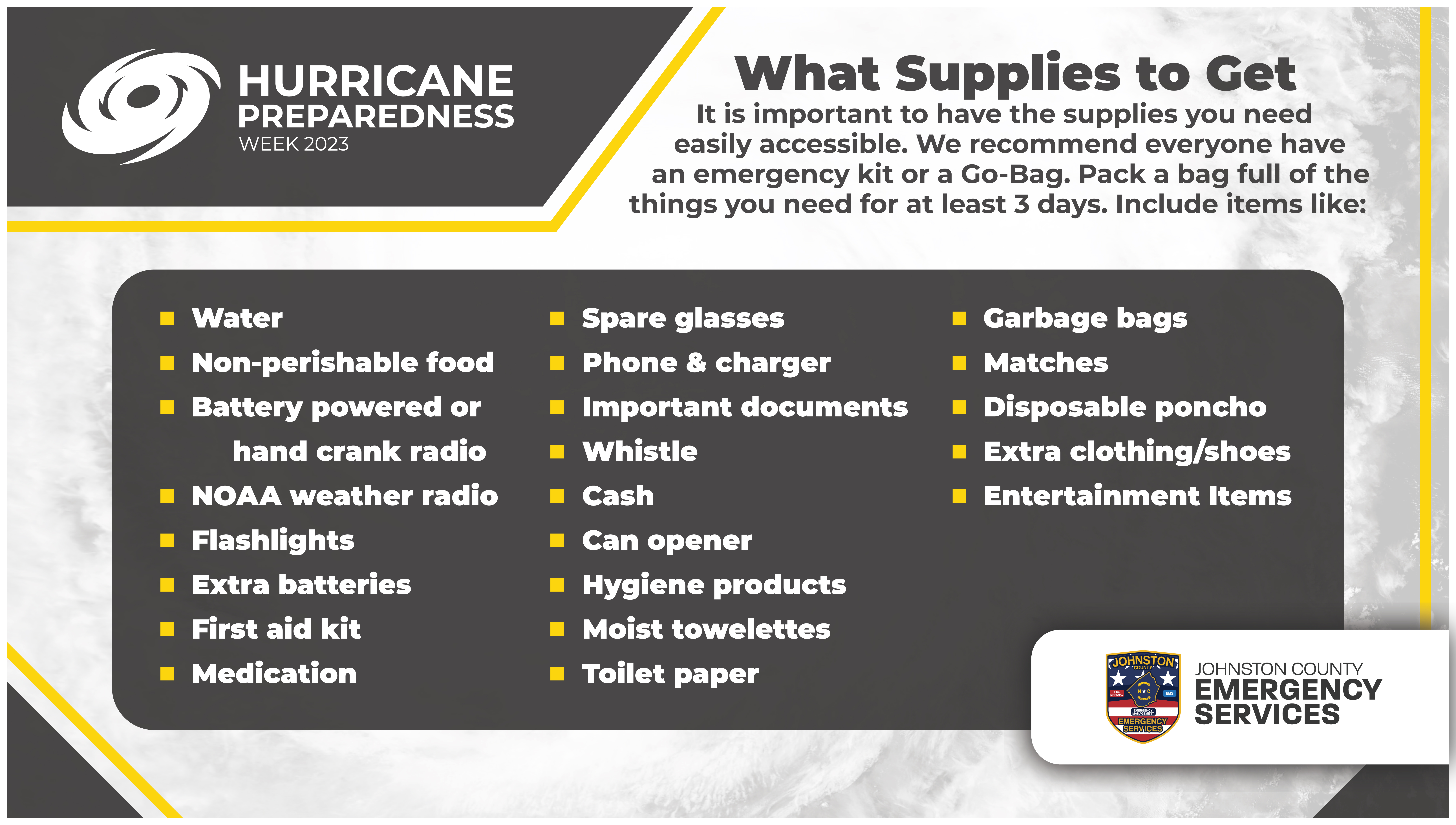 It is important to have the supplies you need easily accessible. We recommend everyone have an emergency kit or a Go Bag. Pack a bag full of the things you need for at least 3 days. Include items like:
Water
Non-Perishable Food
Battery Powered or Hand Crank Radio
NOAA Weather Radio
Flashlights
Extra Batteries
First Aid Kits
Medication
Spare Glasses
Phone & Charger
Important Documents
Whistle
Cash
Can Opener
Hygiene Products
Moist Towelettes
Toilet Paper
Garbage Bags
Matches
Disposable Poncho
Extra Clothing/Shoes
Entertainment Items
Know Where to Go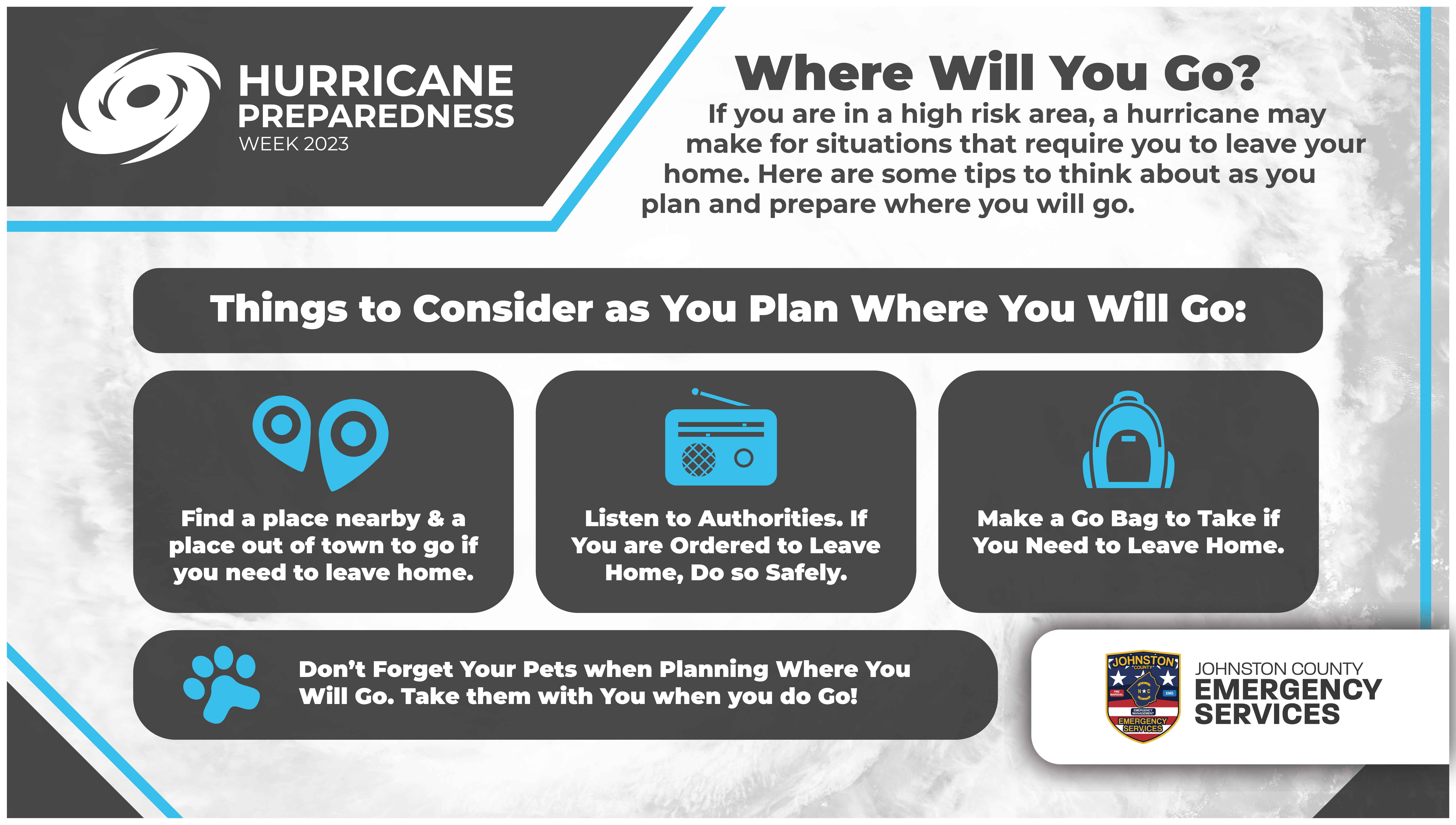 If you are in a high risk area, a hurricane may make for situations that require you to leave your home. Here are some tips to think about as you plan and prepare where you will go.
Things to consider as you plan where you will go:
Find a place nearby & a place out of town to go if you need to leave home
Listen to authorities. If you are ordered to leave home, do so safely
Make a Go Bag to take if you need to leave home
Don't forget your pets when planning where you will go. Take them with you when you do go
Check Up on Your Insurance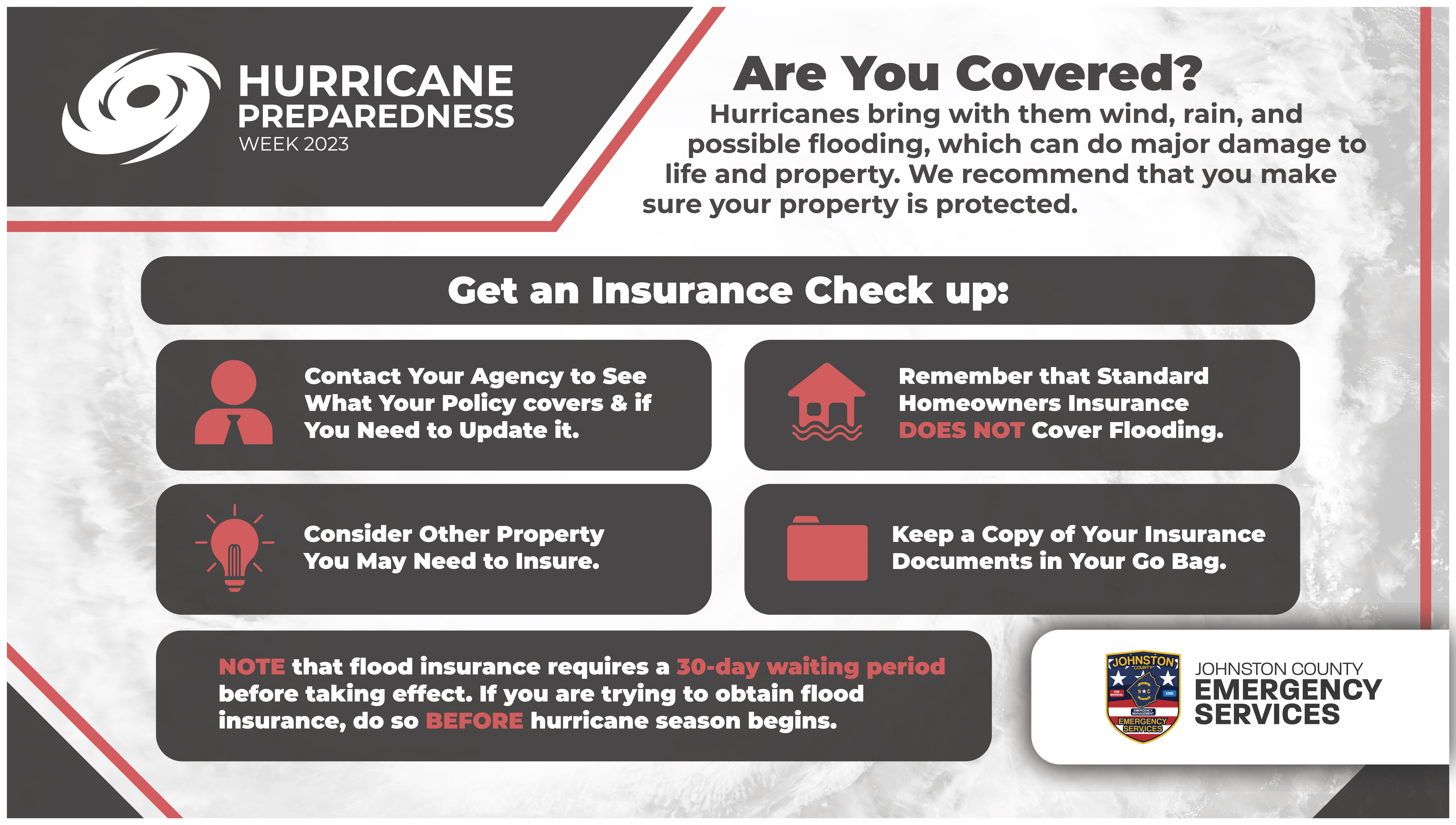 Hurricanes bring with them wind, rain, and possible flooding, which can do major damage to life and property. We recommend that you make sure property is protected.
Get an Insurance Check Up:
Contact your agency to see what your policy covers & if you need to update it
Remember that standard homeowners insurance DOES NOT cover flooding
Consider other property you may need to insure
Keep a copy of your insurance documents in your Go Bag
Note: Flood insurance requries a 30-day waiting period before taking effect. If you are trying to obtain flood insurance, do so BEFORE hurricane season begins.
Putting Together a Written Plan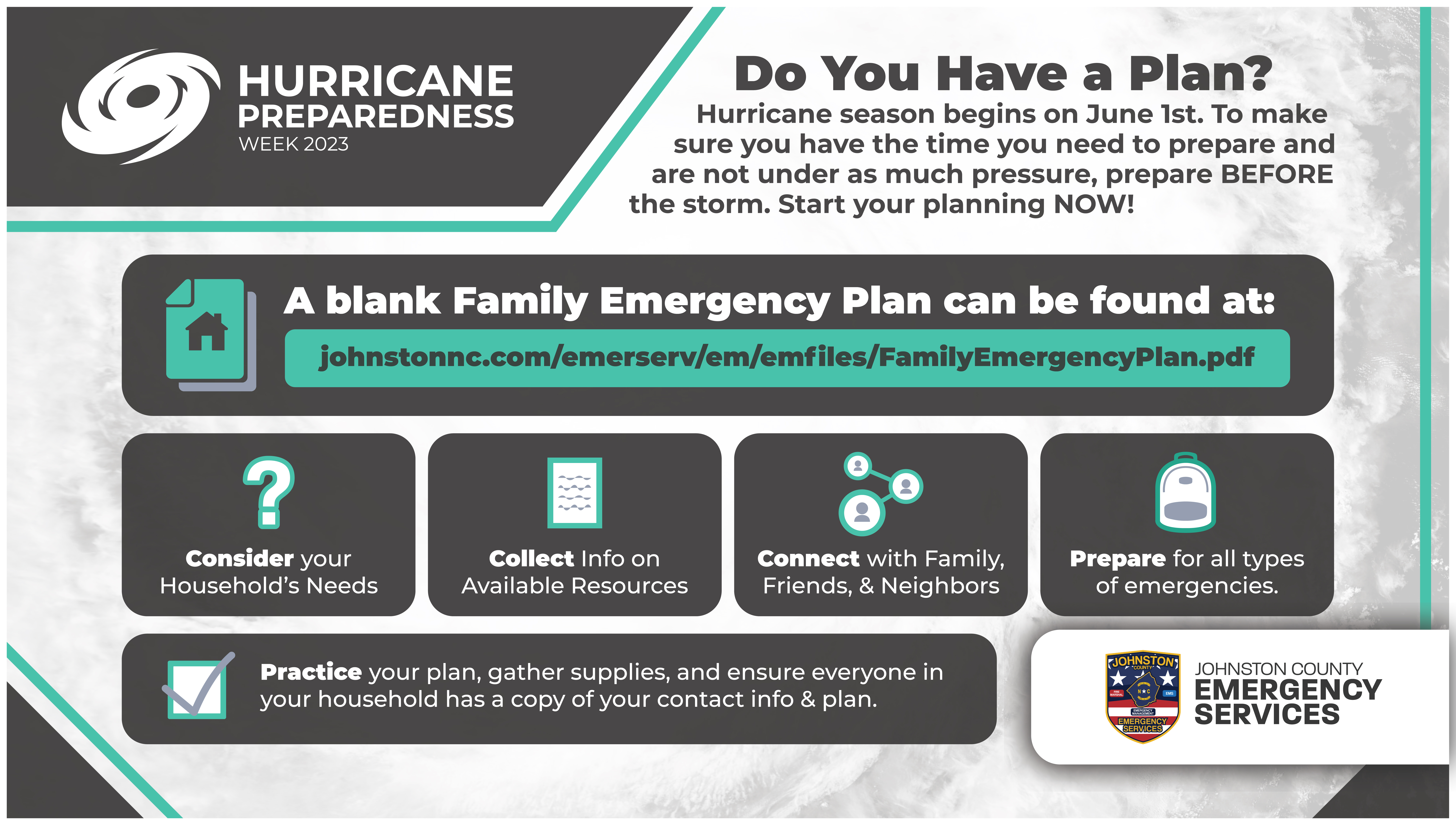 Hurricane season begins on June 1st. To make sure you have the time you need to prepare and are not under as much pressure, prepare BEFORE the storm. Start your planning NOW!
A blank Family Emergency Plan can be found on our website at: https://www.johnstonnc.com/emerserv/em/emfiles/FamilyEmergencyPlan.pdf
You can find hurricane preparedness materials for kids at:
As you Plan
Consider your households needs
Collect info on available resources
Connect with family, friends, and neighbors
Prepare for all types of emergencies
Practice your plan, gather supplies, and ensure everyone in your household has a copy of your contact info and plan
Have You Reached Out to Others?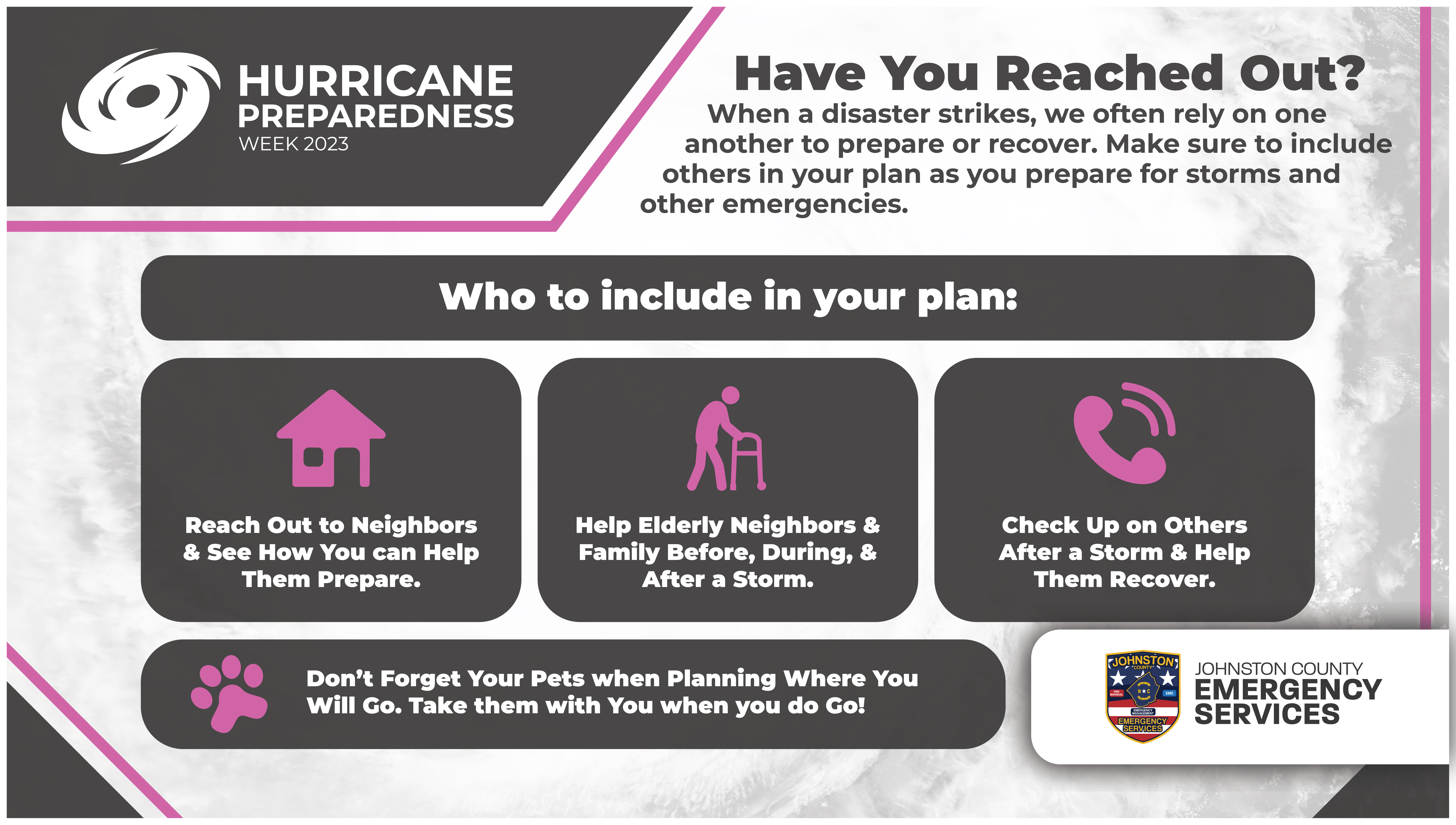 When a disaster strikes, we often rely on one another to prepare or recover. Make sure to include others in your plan as you prepare for storms and other emergencies.
Who to include in your plan:
Reach out to neighbors and see how you can help them prepare
Help elderly neighbors and family before, during, and after a storm
Check up on others after a storm and help them recover
Don't forget your pets when planning where you will go. Take them with you when you do go
Preparing Your Home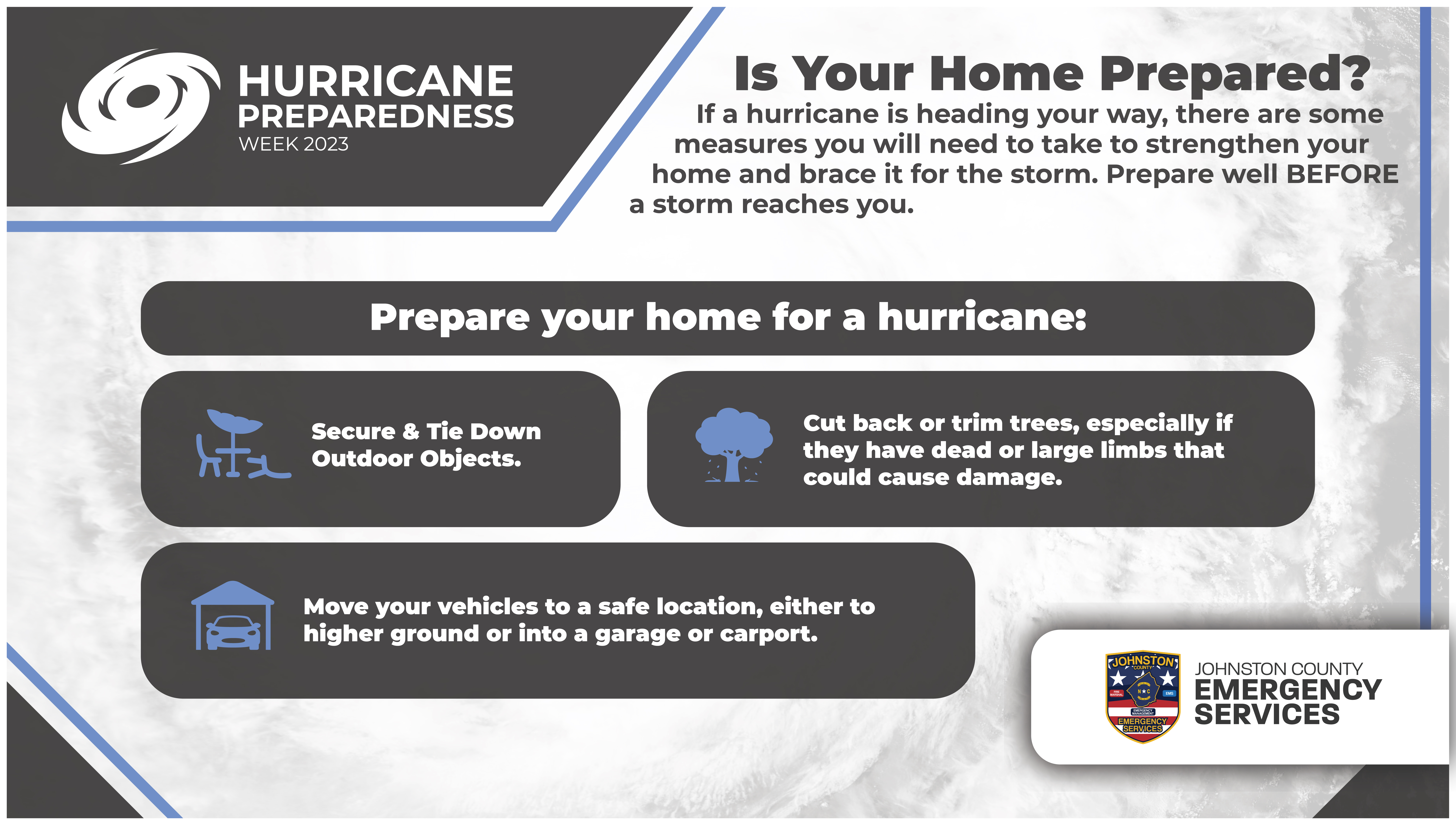 If a hurricane is heading your way, there are some measures you will need to take to strengthen your home and brace it for the storm. Prepare well BEFORE a storm reaches you.
Prepare your home for a hurricane:
Secure and tie down outdoor objects
Cut back or trim trees, especially if they have dead or large limbs that could cause damage
Move your vehicles to a safe location, either to higher ground or into a garage or carport
Outro
Thank you for joining us. We hope that this information has helped you as you begin your preparations for Hurricane Season. Remember, hurricane season begins on June 1st and runs through November 30th, but it is possible for storms to occur outside of that window.
Don't wait until a storm is in the forecast, go ahead and begin your preparation NOW!
Page last updated: September 12, 2023