Household Hazardous Waste Collection Day 2023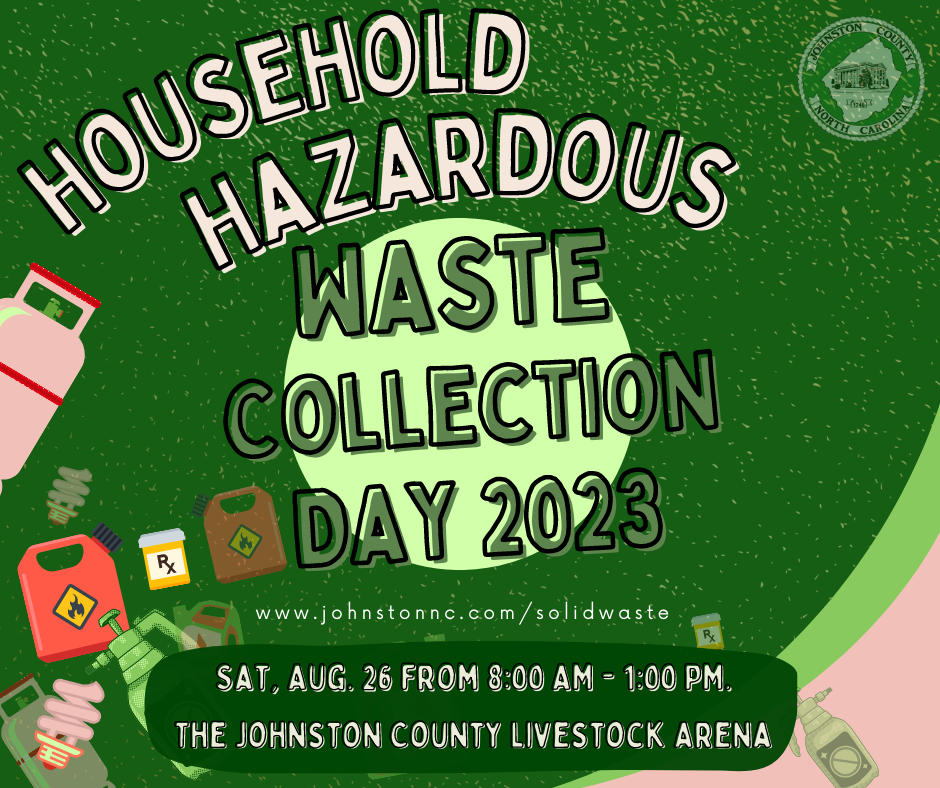 The Johnston County Public Utilities Department, the Johnston County Sheriff's Office, the N.C. Department of Agriculture Cooperative Extension, and the N.C. Department of Agriculture and Consumer Services Pesticide Disposal Assistance Program will sponsor a one day, Household Hazardous Waste Collection Event on Saturday, August 26, 2023 at the Johnston County Livestock Arena. The event is free and open to the public. Our staff will be on site to help unload hazardous materials from participants' vehicles.
Some examples of acceptable items to bring to the event include:
Oil-based paints and stains
Aerosols
Lubricants
Solvents
Paint strippers, polishes, and waxes
Pesticides and herbicides from home and farm
Fluorescent lamps and bulbs
Swimming pool chemicals
Automotive fluids
Gasoline, diesel, kerosene, charcoal lighter and LPG tanks
Household batteries of all types
Pharmaceuticals
Some examples of items that will NOT be accepted include:
Latex paint
Commercial, institutional or industrial chemicals of any type
PCB waste
Radioactive materials (including smoke detectors)
Medical, biological, infectious, or septic waste
Explosives, ammunition, and shock sensitive chemicals
Cooking oil and grease
Fire extinguishers
Any materials currently collected for recycling at the Convenience Sites and/or Landfill
In addition to household hazardous waste, household pharmaceuticals and agricultural pesticides and herbicides will also be collected. The event will be held, rain or shine, from 8:00 a.m.- 1:00 p.m.
The Livestock Arena is located at 520 County Home Road, Smithfield, N.C. 27577, which is next to the Johnston County Landfill. Please contact the Johnston County Solid Waste Division at 919-938-4750 for more information.