Assistant Patty Woodall chosen as Charles W. Moore Award winner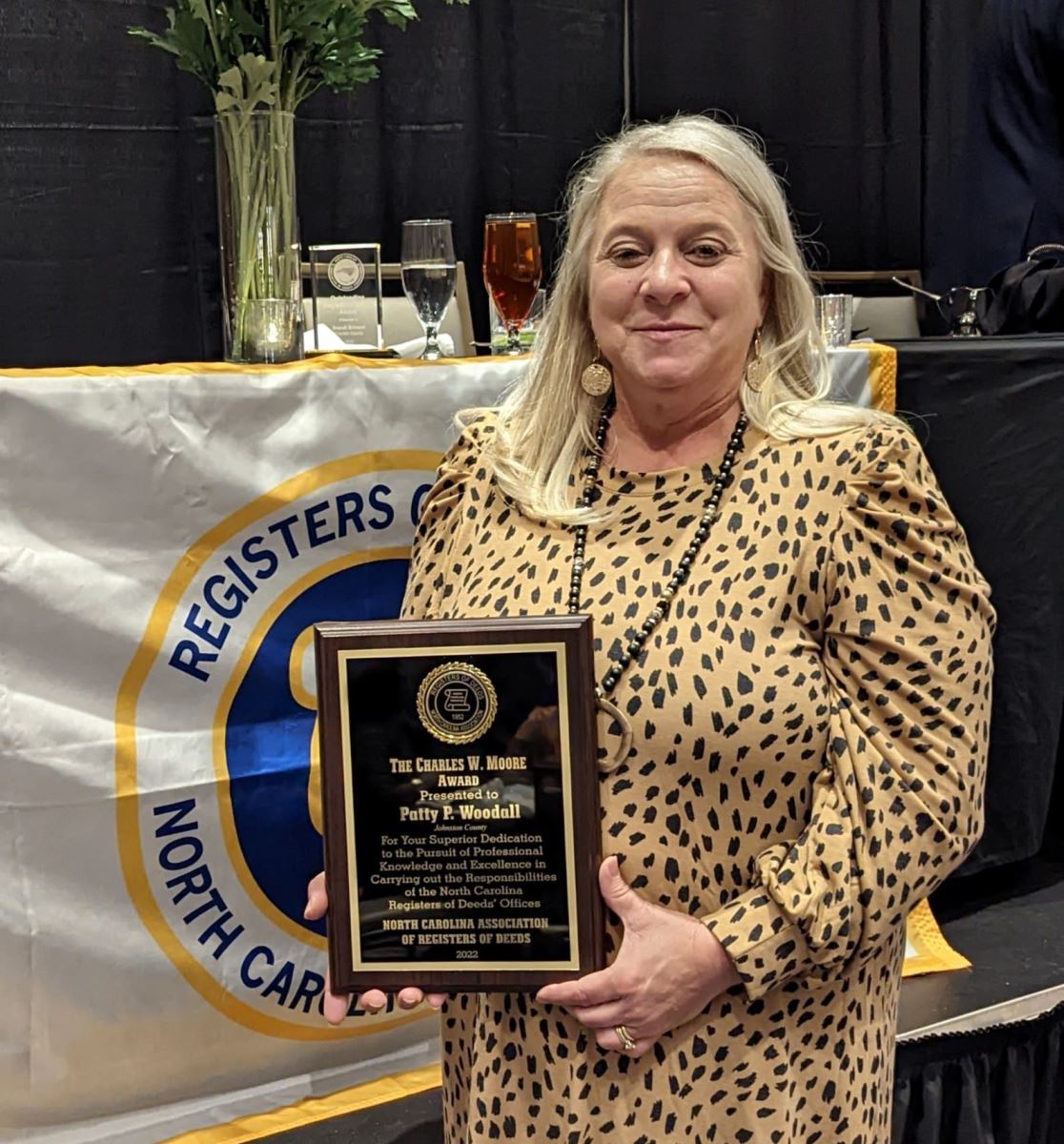 Craig Olive, Johnston County Register of Deeds, announces that his assistant, Patty Woodall, was the recipient of the 2022 Charles W. Moore Award at NC Association of Register of Deeds at their 70 th Annual Conference recently. This award is given annually to a deserving Assistant or Deputy Register of Deeds.

Patty has been employed with Johnston County Register of Deeds for thirteen years, eleven of which she served as an Assistant. Patty has an exceptional rapport with both customers and attorneys. She is also the Passport Program Manager and was instrumental in implementing the program in Johnston County. Her philosophy for office success is rooted in treating all people with kindness and fairness. Her humble and sweet spirit allows her to assist customers in ways which emphasize their importance to the office and community. Patty also trains new staff and shares her knowledge of the office with all staff members.
Patty is also very active in her community. She has served as a Sunday School Teacher, Children's Church Teacher and Vacation Bible School Director/Teacher for Tee's Chapel FWB Church. She is also a previous choir member of church's choir. Patty has volunteered for her children's school and sports teams. She has also been associated with the Advisory Council at Princeton Elementary School, PTA Officer and member at Princeton Elementary School, Athletic Booster Club Officer and member for Princeton High School.
Patty received her Paralegal Degree from Johnston Community College in May 1992 and was employed as a Paralegal for 17 years before employment with Johnston County Register of Deeds. Patty has been married to her husband, Shane, for 27 years. They have 2 children, Waylon, and wife, Jacqueline, and Lane, and fiancée, Jodi. They also recently became grandparents to their granddaughter, Kennedy, who is the apple of their eye.
"I am thankful for Patty's dedication to our office and to the citizens of Johnston County and I am honored for her to receive this prestigious award. She is very deserving," states Mr. Olive.
Page last updated: October 5, 2023