Top Ten Baby Names of 2022
Top Baby Names for 2022
Craig Olive, Johnston County Register of Deeds, announces the most popular baby names in 2022 for Johnston County births. Charlotte and Noah captured the top spots for babies born in Johnston County during 2022.
According to our 2022 statistics, we had a total of 1,934 births, of which 975 were female and 959 were male. Comparing births in 2022 to 2021, there was a 4% increase; 915 female births and 946 male births for a total of 1,861 births.
"It is always interesting to look back at the previous year and see the names of babies born in our county and see how some names stay on the list year after year while others just make a one-time appearance. My office utilizes the most up-to-date technology which enables us to provide this data quickly and effectively," states Mr. Olive. The staff at the Register of Deeds office is happy to assist the public in obtaining any information housed in their office. "My office is always open to the citizens of Johnston County and I am happy to help in any way that I can." If you have any questions, please contact the Johnston County Register of Deeds Office at 919-989-5160.
Top Baby Names for Girls and Boys for the year of 2022 in Johnston County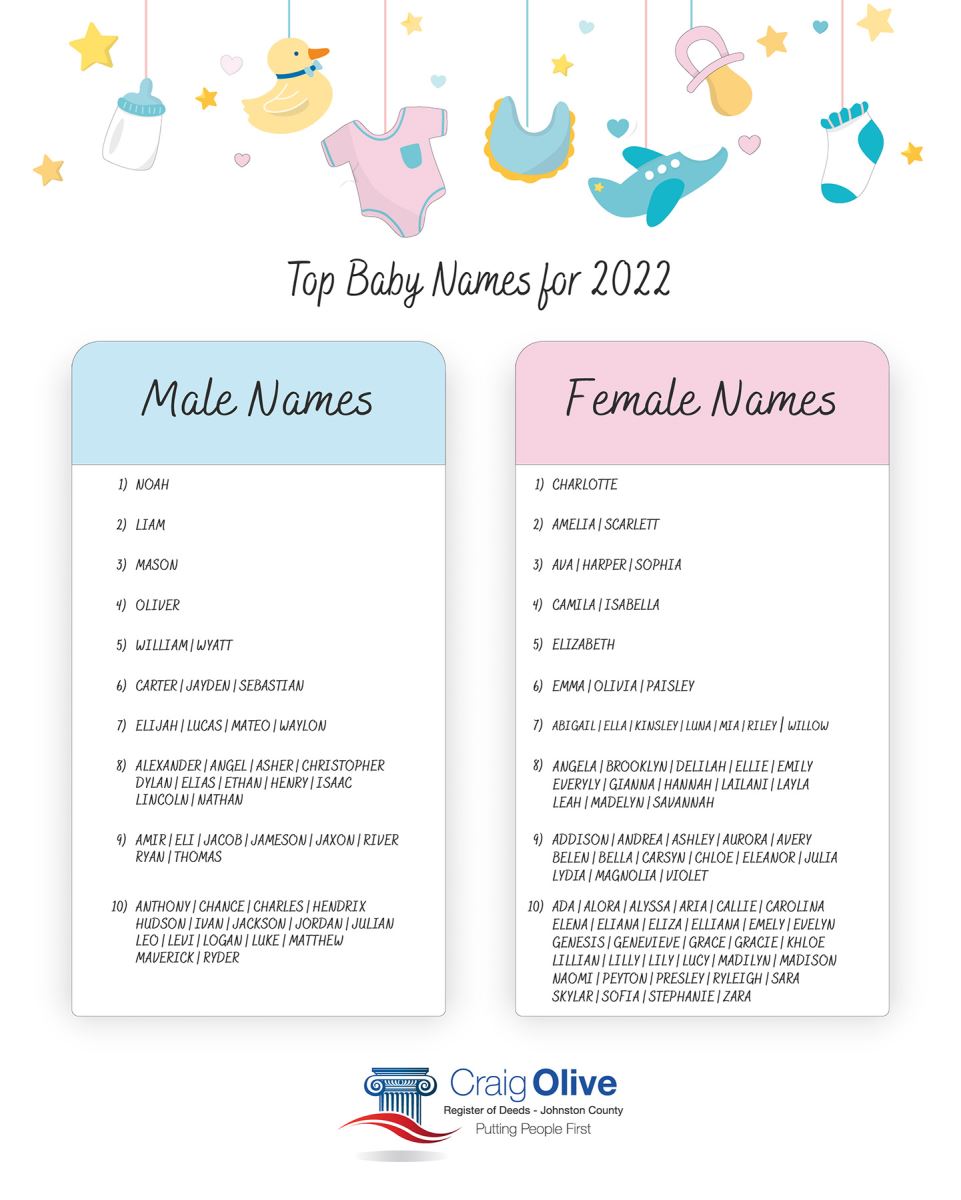 MALE NAMES
1)
NOAH
2)
LIAM
3)
MASON
4)
OLIVER
5)
WILLIAM | WYATT
6)
CARTER | JAYDEN | SEBASTIAN
7)
ELIJAH | LUCAS | MATEO | WAYLON
8)
ALEXANDER | ANGEL | ASHER | CHRISTOPHER | DYLAN | ELIAS | ETHAN | HENRY | ISAAC | LINCOLN | NATHAN
9)
AMIR | ELI | JACOB | JAMESON | JAXON | RIVER | RYAN | THOMAS
10)
ANTHONY | CHANCE | CHARLES | HENDRIX | HUDSON | IVAN | JACKSON | JORDAN | JULIAN | LEO | LEVI | LOGAN | LUKE | MATTHEW | MAVERICK | RYDER
FEMALE NAMES
1)
CHARLOTTE
2)
AMELIA | SCARLETT
3)
AVA | HARPER | SOPHIA
4)
CAMILA | ISABELLA
5)
ELIZABETH
6)
EMMA | OLIVIA | PAISLEY
7)
ABIGAIL | ELLA | KINSLEY | LUNA | MIA | RILEY | WILLOW
8)
ANGELA | BROOKLYN | DELILAH | ELLIE | EMILY | EVERLY | GIANNA | HANNAH | KAILANI | LAYLA | LEAH | MADELYN | SAVANNAH
9)
ADDISON | ANDREA | ASHLEY | AURORA | AVERY | BELEN | BELLA | CARSYN | CHLOE | ELEANOR | JULIA | LYDIA | MAGNOLIA | VIOLET
10)
ADA | ALORA | ALYSSA | ARIA | CALLIE | CAROLINA | ELENA | ELIANA | ELIZA | ELLIANA | EMELY | EVELYN | GENESIS | GENEVIEVE | GRACE | GRACIE | KHLOE | LILLIAN | LILLY | LILY | LUCY | MADILYN | MADISON | NAOMI | PEYTON | PRESLEY | RYLEIGH | SARA | SKYLAR | SOFIA | STEPHANIE | ZARA
Page last updated: July 19, 2023